Filter:
Clear
|
Old
|
1st Addition
|
2nd Addition
|
3rd Addition
|
Columbarium
|
QA 4x4 Ash Gardens
|
QC 2x2 Ash Gardens
|
QM Upright Memorial Section
|
Unknown
Gordon Boice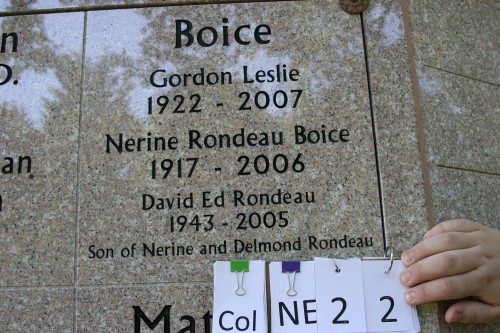 | Section: | Block: | Plot: |
| --- | --- | --- |
| Columbarium | NE | 22 |
Obituary
GORDON L. BOICE 85, was born in Klondike, OR and passed on Oct. 22, 2007 in Vancouver, WA at Peaceful Meadow Adult Family Home.
Gordon and Nerine, his wife of 55 years, lived in Camas on Hathaway Road for over 50 years before ill health forced them to move to Vancouver. Gordon retired from Crown Zellerbach after 33 years of service.
He left college in 1942 to join the US Navy, serving as a pharmacist mate for three years aboard the USS Marcus Island in the Pacific Campaign. He was the recipient of many WWII medals, including the Purple Heart.
The family will forever give thanks to Elizabeth and Lydia at Peaceful Meadow AFH for the love and care they gave our parents for the last two years.
Gordon is survived by his step-son, Richard Rondeau, and wife, Shelley; also grandchildren: Kim Rondeau, Cindi Moyle, Kirsten Aranda, Kamin Cline, and David Rondeau; and eight great-grandchildren. Gordon was predeceased by his wife, Nerine, 2006, and step-son, Dave Rondeau, 2005.

At Gordons request, there will not be a service.

Columbian, The (Vancouver, WA)
Date: November 4, 2007
Sourcing: newspaper obituary, Washington State Death Certificate

If there is any missing, incorrect information or photo issue, please proceed to this page