Filter:
Clear
|
Old
|
1st Addition
|
2nd Addition
|
3rd Addition
|
Columbarium
|
QA 4x4 Ash Gardens
|
QC 2x2 Ash Gardens
|
QM Upright Memorial Section
|
Unknown
Nerine Hilga Murphey Boice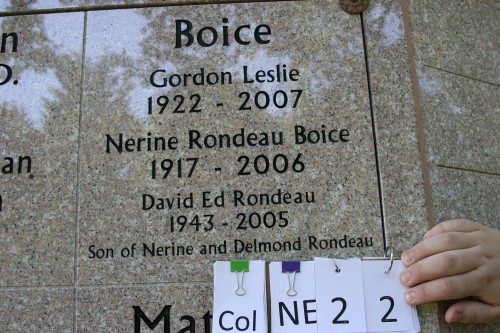 | Section: | Block: | Plot: |
| --- | --- | --- |
| Columbarium | NE | 22 |
Obituary
NERINE H. BOICE 89, was born in Friend, Oregon, and peacefully passed on October 13, 2006 in Vancouver, WA at Peaceful Meadow Adult Family Home.
Nerine was an awesome homemaker. She filled her home in Camas with family, friends, flowers, pets, and other projects. She was in love with natures' creations, and found joy and peace nurturing her many gardens while surrounded by animals, birds, and her faith in God.
Nerine is survived by her husband of 55 years, Gordon L. Boice; Her son, Richard D. Rondeau and wife, Shelley; brother, Gene Rothery; sister, Vaughna Clarke; grandchildren, Kim Rondeau, Cindi Moyle, Kirsten Aranda, Kamin Cline, David Rondeau, and eight great-grandchildren. Nerine was predeceased by her son, Dave E. Rondeau in 2005.
At her request, there was not to be a service.
Columbian, The (Vancouver, WA)
Date: November 5, 2006
Sourcing; Newspaper obituary, Washington State Death Certificate
If there is any missing, incorrect information or photo issue, please proceed to this page