Filter:
Clear
|
Old
|
1st Addition
|
2nd Addition
|
3rd Addition
|
Columbarium
|
QA 4x4 Ash Gardens
|
QC 2x2 Ash Gardens
|
QM Upright Memorial Section
|
Unknown
Jared Ethan Brown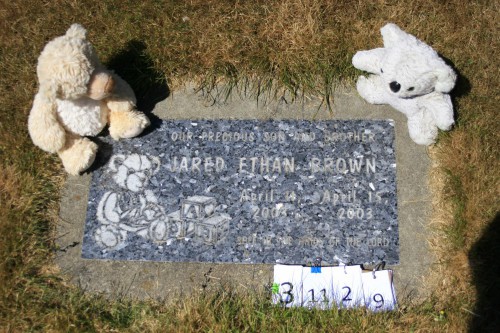 | Section: | Block: | Plot: |
| --- | --- | --- |
| 3rd Addition | 11 | 29 |
Obituary
Jared Ethan Brown
Jared Ethan Brown, son of Kris and Mark Brown of Camas, was born with heart complications April 11, 2003, in a Portland Hospital and died April 15.
Other survivors include two brothers, Mark E. II and Eric M., both at home; and grandparents Sandy and Larry Littleton of Camas and Michael A. Brown Sr. of Vancouver
A funeral will begin at 1 p.m. Saturday at the Prune Hill Chapel of the Church of Jesus Christ of Latter-day Saints. Burial will be in Fern Prairie Cemetery in Camas. Brown's Funeral Home in Camas is in charge of arrangements.
Memorial contributions may be made to the American Heart Association, 4414 Woodland Park Ave. N., Seattle, WA 98103.
If there is any missing, incorrect information or photo issue, please proceed to this page