Filter:
Clear
|
Old
|
1st Addition
|
2nd Addition
|
3rd Addition
|
Columbarium
|
QA 4x4 Ash Gardens
|
QC 2x2 Ash Gardens
|
QM Upright Memorial Section
|
Unknown
Reuben Vernon Brown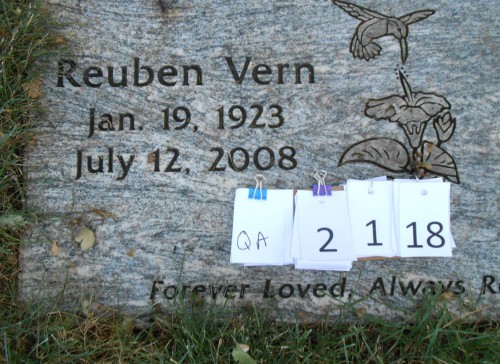 | Section: | Block: | Plot: |
| --- | --- | --- |
| QA 4x4 Ash Gardens | 2 | 118 |
Obituary
REUBEN VERNON BROWN
Reuben (Vern) Brown, 85, of Battle Ground passed away on July 12, 2008 of congestive heart failure. He was born on Saco, Montana to Reuben and Beulah Brown and moved to the Camas/Washougal area at a young age. He graduated from Washougal High School. Reuben worked at the Vancouver Shipyards during WWII. He was employed by Crown Zellerbach in Camas.

He and his family lived in Fern Prairie for 17 years where he was a volunteer for the rural fire department and active with his son's Boy Scout troop.
The family moved to Eureka, CA in 1966 where he helped start up a new pulp mill. In 1983, Reuben and his wife, Lucille, moved to Battle Ground.

He is survived by his loving wife of 61 years, Lucille; daughters, Judy Garland (Ron), of Bozeman, MT, Karen Moore (Bill) of Eugene, OR; grandchildren, Ryan Garland of Phoenix, AZ, Kristin Garland of Bozeman, MT, Michael, Elizabeth and Thomas Moore and 5 month old great-grandson, Jericho all of Eugene, OR; sister, Burnice McGlothlen of Vancouver; brother, Mick Brown of Everett, WA; brothers-in-law, Charles and Frank DeTemple of Fern Prairie, Darrell Alder of Washougal; daughter-in-law, Bonnie Brown of Washougal and caring nieces and nephews.

He was preceded in death by his son, Randy Brown who also died this year, his brother Newt Brown and his sister, Shirley Alder.

A memorial service and inurnment will be held Friday, July 18 at at the Fern Prairie Cemetery. Straub's Funeral Home & Columbia River Cremation in Camas is in charge of the arrangements. Memorial donations can be sent to OHSU Foundation, 1121 SW Salmon St. Suite 200, Portland, OR 97205 attn: Casey Eye Institute Fund in memory of Reuben Brown or attn: Organ Transplant in memory of Reuben Brown. To send condolences or to sign the online guest book visit www.straubsfuneralhome.com.
Sourcing: Straub's Funeral Home & Washington state D.C.
If there is any missing, incorrect information or photo issue, please proceed to this page