Filter:
Clear
|
Old
|
1st Addition
|
2nd Addition
|
3rd Addition
|
Columbarium
|
QA 4x4 Ash Gardens
|
QC 2x2 Ash Gardens
|
QM Upright Memorial Section
|
Unknown
June Iris Kramer Alaspa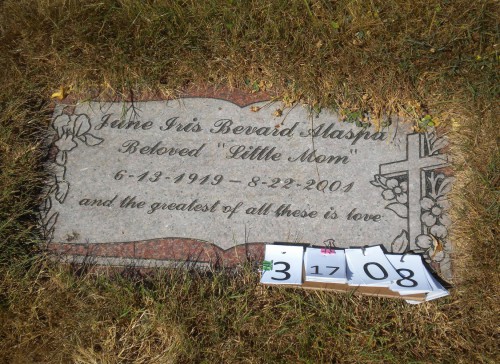 | Section: | Block: | Plot: |
| --- | --- | --- |
| 3rd Addition | 17 | 7 |
Obituary
Obituary
June Alaspa
June Alaspa, who enjoyed gardening, flowers and crafts, died Wednesday, Aug. 22, 2001, in Vancouver. She was 82.
Mrs. Alaspa was a member of the Reorganized Church of Jesus Christ of Latter Day Saints.
She worked for several years as a nurse's aid at Vancouver Memorial Hospital.
Her husband, Eino Alaspa, died in 1997, and a son, Dennis Bevard, died in 1964.
Mrs. Alaspa was born June 3, 1919, in Heppner, Ore., and moved to the Washougal area as a child. Survivors include three sons, Michael Bevard and Gary Bevard, both of Vancouver, and Jim Bevard of Washougal; one sister, Ruby Robinson of Portland; one brother, Francis Kramer of Washougal; seven grandchildren; and nine great-grandchildren.
A funeral will begin at 11 a.m. Wednesday at Straub's Funeral Home in camas. Burial will be in Fern Prairie Cemetery.
The Columbian, (Vancouver, WA) 25 Aug 2001 Page C 4
If there is any missing, incorrect information or photo issue, please proceed to this page