Filter:
Clear
|
Old
|
1st Addition
|
2nd Addition
|
3rd Addition
|
Columbarium
|
QA 4x4 Ash Gardens
|
QC 2x2 Ash Gardens
|
QM Upright Memorial Section
|
Unknown
Harry Howard Clayton Bruce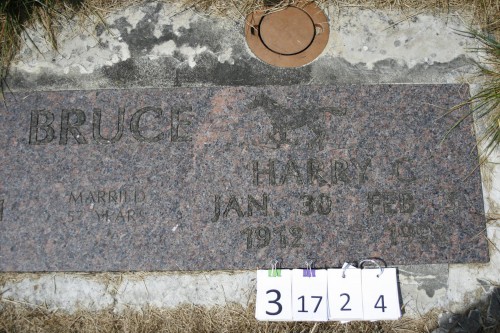 | Section: | Block: | Plot: |
| --- | --- | --- |
| 3rd Addition | 17 | 24 |
Obituary
Harry C. Bruce
FERN PRAIRIE – Harry C. Bruce, 80, died at his home at 1617 N. E. 267th Ave., Wednesday, Feb. 5. He had lived 36 years in Fern Prairie and had worked for crown Zellerbach as a fork lift operator. He retired in 1974.
He was born Jan. 30, 1912, in Oregon City. Mr. Bruce was a member of First Baptist Church in Camas.
Survivors include his wife since 1934, Anna M., at home; a daughter, Marilyn Walton of Omaha, Nev.; a son, Norval Bruce of Burbank, Calif.; five grandchildren; and three great-grandchildren.
A graveside service begins at 1 p.m. Saturday at Fern Prairie Cemetery. The casket will be open from 10 a.m. to 8 p.m. Friday at Straub's Funeral Home in Camas.
Memorial contributions may be made to First Baptist Church of Camas, Box 935, Camas, Wash. 98607; or Silver Star Search and Rescue, Box 943, Camas, Wash. 98607.
Columbian, The (Vancouver, WA) 06 Feb 1992
If there is any missing, incorrect information or photo issue, please proceed to this page