Filter:
Clear
|
Old
|
1st Addition
|
2nd Addition
|
3rd Addition
|
Columbarium
|
QA 4x4 Ash Gardens
|
QC 2x2 Ash Gardens
|
QM Upright Memorial Section
|
Unknown
Clayton Hayes Byrum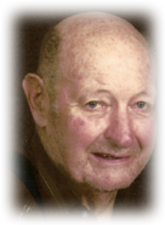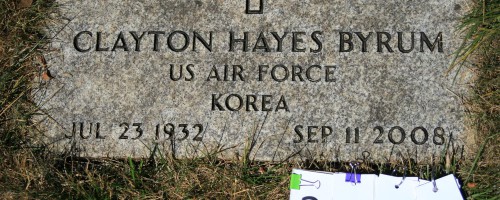 | Section: | Block: | Plot: |
| --- | --- | --- |
| 3rd Addition | 11 | 10 |
Obituary
Clayton Hayes Byrum went to be with his Lord on September 11, 2008. Born on July 23, 1932 in Camas, Clayton was 76 years old.

A lifetime Camas-Washougal resident, Clayton graduated from Washougal High School in 1951 and was a Veteran of the US Air Force during the Korean War. He worked for Crown-Zellerbach Paper Mill in Camas as a mule driver before his retirement, and was a member of the Camas Assembly of God Church. An avid rock hound, Clayton enjoyed gold panning, hunting, fishing, camping, and hiking. Most of all, Clayton loved his family and his Lord.

Clayton is survived by his loving wife of 50 years Margie at home, daughters Candy Roads and Christine Kelley, brother Richard Byrum, five grandchildren, and two great-grandchildren. He was preceded in death by his son David Byrum, and sisters Delores Palmer and Dina Monett.

There will be a Celebration of Life Service with full military honors for Clayton on Thursday, September 18th at at the Camas Assembly of God Church. Vault interment will follow at the Fern Prairie Cemetery in Camas. Viewing will be held from to Tuesday and Wednesday at Brown's Funeral Home in Camas. Brown's Funeral Home and Cremation Services in Camas has been entrusted with arrangements.
If there is any missing, incorrect information or photo issue, please proceed to this page