Filter:
Clear
|
Old
|
1st Addition
|
2nd Addition
|
3rd Addition
|
Columbarium
|
QA 4x4 Ash Gardens
|
QC 2x2 Ash Gardens
|
QM Upright Memorial Section
|
Unknown
Richard Albert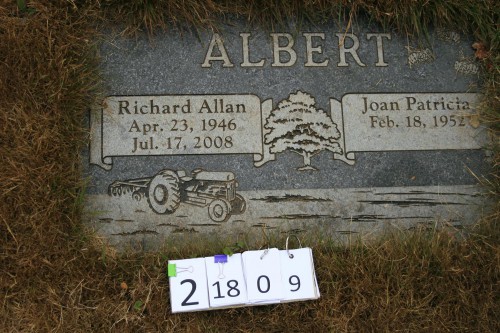 | Section: | Block: | Plot: |
| --- | --- | --- |
| 2nd Addition | 18 | 9 |
Obituary
Obituary
Richard Albert died in his beloved home on July 17, 2008 and Camas lost one of its finest citizens. He was 62 years old and known by all for his loyalty, kind heart, and willingness to help others. He began working for Crown Zellerbach at age 18 and after 34 years there began working as an electrical inspector for the City of Vancouver where he remained until the day he died.

In his younger years, Richard was an avid runner, completing many marathons, and also played football and enjoyed riding dirt bikes. However, throughout his lifetime, haying was his true passion. He could be seen driving down 7th on his tractor to hay the neighborhood fields. He often said he loved to watch the hay fall.

He is survived by his wife Joan, his daughters Andrea and Katherine, his sister Rebecca, brother-in-law Ron, and nephews Wade and Guy.

Services will be held on Monday, July 28th at 6:00 pm at Grace Foursquare Church in Camas. Interment will be held at the Fern Prairie Cemetery in Camas.

Brown's Funeral Home and Cremation Services in Camas has been entrusted with arrangements
Sourcing: Brown's Funeral Home & Washington State D.C.
If there is any missing, incorrect information or photo issue, please proceed to this page