Filter:
Clear
|
Old
|
1st Addition
|
2nd Addition
|
3rd Addition
|
Columbarium
|
QA 4x4 Ash Gardens
|
QC 2x2 Ash Gardens
|
QM Upright Memorial Section
|
Unknown
Alexander L. Coffey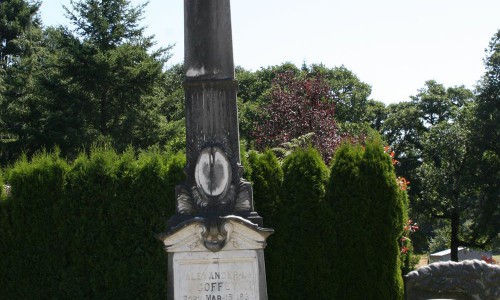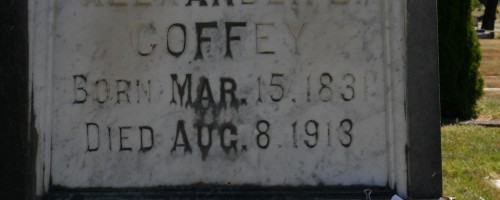 | Section: | Block: | |
| --- | --- | --- |
| Oak Grove Farm Cemetery | VV | |
Obituary
PIONEER VETERAN SUCCUMBS
Alexander Lewis Coffey, Indian War veteran, pioneer resident of the county for 61 years, died at St. Joseph's hospital yesterday afternoon after an illness of two weeks duration. Mr. Coffey crossed the plains with his parents in 1852 and located that year in Clarke County. He was born in Cooper County, Missouri, Mar. 18, 1831.
His life is closely related with the early history of Clarke county. He was an Indian War veteran and took active part in many battles of frontier days. In 1872 he was elected sheriff of Clarke county. He was a civil engineer and spent much of his life in the pursuit of this profession. For a number of years he has made his home at Camas.
Mr. Coffey is survived by one brother, T. M. Coffey of Washougal and one sister, Mrs. M. L. Abbott of Mill Plain.
The funeral services will be held tomorrow (Sunday) at 11 o'clock at Oak Grove farm near Fern Prairie. Interment will be made in Oak Grove cemetery.
Sources & Notes:
Vancouver Weekly Columbian 14 Aug 1913
Limber's Funeral Records
Oregonian
A. L. COFFEY DIES, AGED 82
Man Who Crossed Plains in 1852 Passes in Vancouver.
VANCOUVER, Wash., Aug. 8. ------ (Special)
A.L. Coffey, past 82 years old, Sheriff of Clark County from 1872 until 1876, who crossed the plains from Boonville, Mo., to Vancouver in 1852 with an ox team, died at St. Joseph's Hospital in this city today.
Mr. Coffey took up a donation land claim where his home was. He participated in a number of Indian battles and joined an expedition to Missoula in 1860. the last 30 miles he pulled a hand sled, the snow being too deep for the team he was driving. Returning to Vancouver, he was elected Assessor in 1868 and served two years.
His wife died two years ago. He leaves a brother T.M. Coffey, of Washougal, and a sister, Mrs. Abbott, who lives on Mill Plain in this county.
Source; The Oregonian (Portland, Oregon) – 9 August 1913 – page 13
NOTE: (Based on the 1910 census, it states he was "single" and not married. Further searches could not find proof of him being married.)
If there is any missing, incorrect information or photo issue, please proceed to this page