Filter:
Clear
|
Old
|
1st Addition
|
2nd Addition
|
3rd Addition
|
Columbarium
|
QA 4x4 Ash Gardens
|
QC 2x2 Ash Gardens
|
QM Upright Memorial Section
|
Unknown
Melvin M. Collett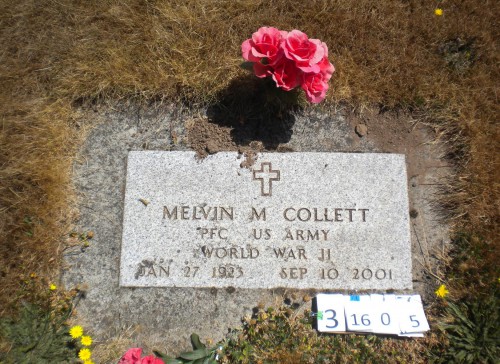 | Section: | Block: | Plot: |
| --- | --- | --- |
| 3rd Addition | 16 | 5 |
Obituary
Melvin M. Collett
Melvin M. Collett died Sept. 10, 2001, at home in Camas. He was 78.
Collett was born on Jan. 21, 1923, in Brookings, Ore. He was in the Army Tanks Corps in Europe during World War II. He was a member of the Mid-Columbia Art Association, Veterans of Foreign Wars, American Legion, Gold Prospectors of America and Lost Dutchman Mining Association. He worked 42 years at Crown Zellerbach Paper mill, and was a lifelong Clark County resident. He loved fishing, panning for gold, flying model airplanes, and painting scenery, architecture and flowers in oil.
He is survived by his wife, Irene, of Camas; sisters, June Slater of Portland and Dolores Moore of Anaheim, Calif.; brothers, Fred Collett of Port Orchard, Wash., and John Collett Crew of Sunnyvale, Calif.; sons, Ron Collett and Harold Collett, both of Camas; two granddaughters and four great-grandchildren.
Memorial services were held at the Grace Four Square Church.
Memorial donations can be made to the Hospice Southwest, P.O. Box 1600, Vancouver, WA 98668.
Post Record (Camas, WA) 2001 September
If there is any missing, incorrect information or photo issue, please proceed to this page