Filter:
Clear
|
Old
|
1st Addition
|
2nd Addition
|
3rd Addition
|
Columbarium
|
QA 4x4 Ash Gardens
|
QC 2x2 Ash Gardens
|
QM Upright Memorial Section
|
Unknown
Mamie Sue Blanton Ammons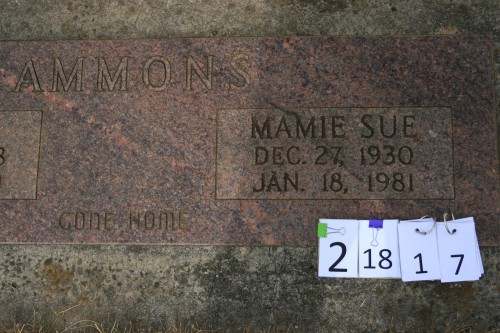 | Section: | Block: | Plot: |
| --- | --- | --- |
| 2nd Addition | 18 | 17 |
Obituary
Obituary
Ammons, Mamie Sue – Age 50, Jan. 18, 1981, Vancouver, Wash. Born Dec. 27, 1930, Hazelwood, N.D. Lived at 13518 NE 44th St. and had been a Vancouver resident since 1951. She was a homemaker. Widower, James R. Ammons. Sons, Robert E. Ammons, View, Wash., and John A. Ammons, Vancouver. Parents, Mr. and Mrs. Rufus Blanton, Hazelwood, N.C. Brother, Robert Blanton, Hazelwood. Sisters, Margaret Hensley in Florida, Doyle Caldwell, Doris Duncan and Barbara Crawford, all of Hazelwood, and Betty Blanton in California; and four grandchildren.
The casket will be open until the funeral at 12:30 p.m. Wednesday in Straub's Funeral Home, Camas. The Revs Layton and Lee Brock will conduct the service. Burial will be in Fern Prairie Cemetery.
The Columbian, (Vancouver, WA) 20 Jan 1981
If there is any missing, incorrect information or photo issue, please proceed to this page