Filter:
Clear
|
Old
|
1st Addition
|
2nd Addition
|
3rd Addition
|
Columbarium
|
QA 4x4 Ash Gardens
|
QC 2x2 Ash Gardens
|
QM Upright Memorial Section
|
Unknown
William Coop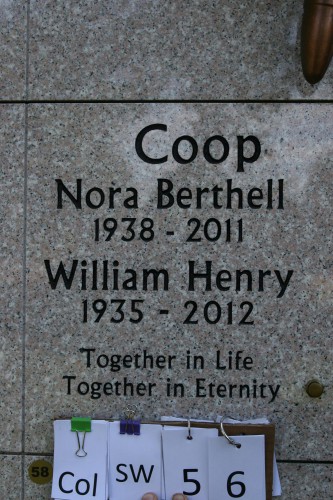 | Section: | Block: | Plot: |
| --- | --- | --- |
| Columbarium | SW | 56B |
Obituary
WILLIAM HENRY COOP
William Henry Coop died June 23, 2012.
He was born May 22, 1935, in Portis, Kan., and spent the majority of his career in several prestigious aerospace industry leadership roles before founding the Dallas, Texas, based Entronics Corp. Throughout his lif, Bill established residency in several states including Kansas, Oregon, Washington, California, Ohio, Oklahoma, Texas, and finally settling in his favorite location, Camas.
Bill experienced many things in his life including achieving an FAA commercial pilot license with his wife Nora. Bill's unique aerospace career landed on the planet Mars when in the mid 1970's he led the team of engineers responsible for the design and deployment of the soil sampling equipment for the two Viking explorer missions. Bill's name remains engraved on the Viking landers today and forever. He was a wise and very well educated man who contributed much to his family, those around him and the aerospace community.
Bill especially enjoyed fishing and boating on his cabin cruiser in Marina Del Ray, Calif. Bill also enjoyed spending time with his grandchildren and other family members.
Bill is survived by his brother, James Coop; sisters, Marguerite Bowen and Anita Boney; son Phil Coop, and his wife Priscilla; daughter, Kathy Cruz and her husband Joe; and three grandchildren.
A private celebration of life ceremony will be held in Bill's honor by his immediate family members. Brown's funeral Home and Cremation services in Camas is in charge of arrangements.
To send condolences or sign the online guest book, visit www.brownsfh.com.
If there is any missing, incorrect information or photo issue, please proceed to this page