Filter:
Clear
|
Old
|
1st Addition
|
2nd Addition
|
3rd Addition
|
Columbarium
|
QA 4x4 Ash Gardens
|
QC 2x2 Ash Gardens
|
QM Upright Memorial Section
|
Unknown
Anna Ethel Rutt Davis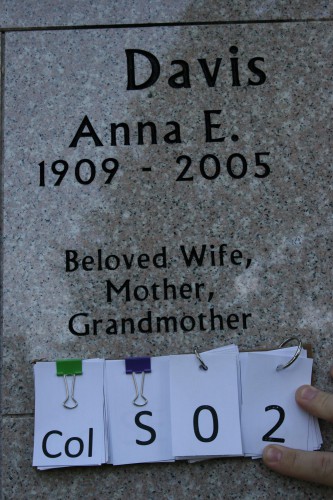 | Section: | Block: | Plot: |
| --- | --- | --- |
| Columbarium | S | 2A |
Obituary
Obituary
Anna Ethel Davis
Anna Ethel Davis was born in Green River, Utah on July 2, 1909 to Sadie and Walter Rutt. Anna's siblings were Helen "Honey" Rutt and Robert "Bob" Rutt. After the death of her mother Sadie, Anna married Byron "Bud" William Harrison in 1929. They had one child, a son, Richard Lee Harrison. Bud died in 1937. Approximately six years later, Anna met and married Jack Emory in Long Beach, California. Jack and Anna were married for about ten years when he died of cancer. Anna was residing in Los Angeles, California where she worked as a bookkeeper at the Broadway Department Store. Anna loved to dance. Sometime during this period, she met Francis "Frank" Davis at the Lawrence Welk Dance Ballroom. In 1966 Anna and Frank were married in Ensenada, Mexico. They resided in Los Angeles and later moved to Huntington Beach, California. Together, Anna and Frank ran a successful real estate investment business. Frank passed away in 1992. In 1993, Anna moved to Camas, Washington to be near her son Richard and her family. Anna loved to read. She especially enjoyed westerns and mysteries. The best times in Camas were spent at her lovely home where she enjoyed many family gatherings. She is survived by her son Richard, her daughter-in-law Dorothy, three grandchildren: Georgia Griffith, Steven Harrison, and Anna Miller, seven great-grandchildren, and eight great-great grandchildren.
Sources & Notes:
Brown's Funeral Home Records
Death Certificate
If there is any missing, incorrect information or photo issue, please proceed to this page