Filter:
Clear
|
Old
|
1st Addition
|
2nd Addition
|
3rd Addition
|
Columbarium
|
QA 4x4 Ash Gardens
|
QC 2x2 Ash Gardens
|
QM Upright Memorial Section
|
Unknown
Dale Justin Harper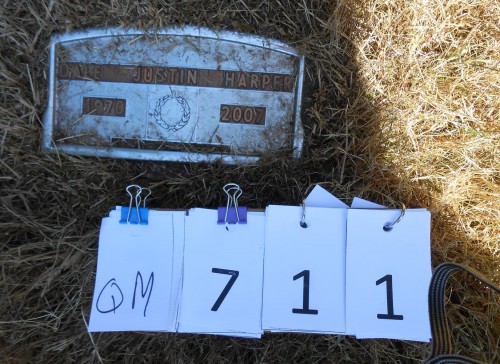 | Section: | Block: | Plot: |
| --- | --- | --- |
| QM Upright Memorial Section | 7 | 11 |
Obituary
DALE JUSTIN HARPER

Dale Justin Harper, age 36, passed away March 2, 2007. He was born April 25, 1970, in Kenosha, WI, to Dennis Harper (Arizona), and Linda Brenneman (Wisconsin). Dale went to be with the Lord the moment he left this earth. Dales' greatest love was for his children and his enjoyment from riding his motorcycle. He lived in Kenosha, WI for most of his youth, then moved to Arizona, where he completed his education.

Dale moved to Washington State and was a Journeyman electrician at the time he left this world. He now knows the perfect love we can all have through Jesus.

He will be missed by his family and special friends, Bill and Paula.

Dale is survived by his daughter, Katelynn, 13, and son, William, 2, Washington; parents, Dennis (father) and Carrie Harper, AZ, Raymond and Linda (mother) Brenneman, WI; sisters, Mrs. Brooke (Colin) Schaller, WI, and Mrs. Keli (Al) Stonitsch, IL, and brother, Joey, MA, and many other loving family members. He was predeceased by both maternal and paternal grandparents, as well as uncles, Frank Harp and David Harper.

A memorial service will be held March 14, 2007, , at Fern Prairie Cemetery, Camas, WA.

Donations may be made to Dale's children, Katelynn and William Harper. Contact BGill or Paula Daniels at 360-772-4402.

Sources & Notes:

The Columbian Vancouver, Clark Co., WA 11 Mar 2007

Death Certificate Also Linda Brenneman (mother of Dale)

----------------------------------------------------------------

Single-car crash kills Battle Ground man

Saturday, March 03, 2007
page C3

A Battle Ground man was observed driving erratically just before the accident that claimed his life early Friday morning.

Dale J. Harper, 36, of Battle Ground was found dead under his vehicle by Clark County Sheriff\'s deputies at almost 2 a.m.

According to information released by the sheriff\'s office, Harper was driving in the 17300 block of Northeast 142nd Avenue when he went off the road. The vehicle rolled onto its side.

A witness, who called 911, said he saw Harper speeding and driving in the middle of the road right before the accident. The witness came upon the scene after the accident occurred, according to a news release.

Harper was alone in his SUV, a 2000 Ford Excursion.

Excessive speed is considered to be a contributing factor in the accident. The sheriff\'s Traffic Homicide Unit is investigating.
If there is any missing, incorrect information or photo issue, please proceed to this page