Filter:
Clear
|
Old
|
1st Addition
|
2nd Addition
|
3rd Addition
|
Columbarium
|
QA 4x4 Ash Gardens
|
QC 2x2 Ash Gardens
|
QM Upright Memorial Section
|
Unknown
Thomas Smith Armstrong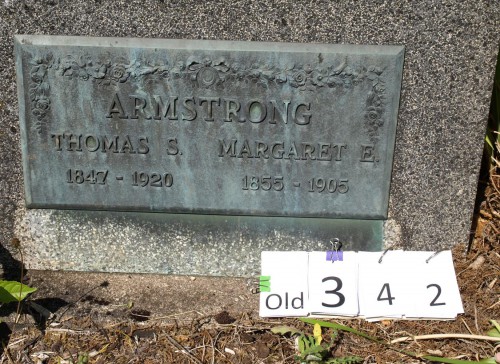 | Section: | Block: | Plot: |
| --- | --- | --- |
| Oak Grove Farm Cemetery | 3 | 43 |
Obituary
Obituary

DEATH SUMMONS WAS SUDDEN FOR FARMER
__________
T. S. Armstrong, Revered Pioneer of Fern Prairie, Died Sunday Evening
__________
Fern Prairie community and many friends in this city were shocked to hear the report of the sudden death of T. S. Armstrong, which occurred at 7:30 Sunday evening. Mr. Armstrong was in the act of eating supper when he suddenly collapsed and expired in a short time.
Thomas Smith Armstrong was a native of Ohio, born August 24, 1846. He came west, and in 1881 he became a resident of Fern Prairie neighborhood where he has resided continuously since, and developed a comfortable farm home. As a neighbor and a citizen he was held in the highest esteem. His wife died ten or twelve years ago. Two children are also dead, and two survive, Frank Armstrong of this city and Mrs. Jesse Miller of Fern Prairie.
Funeral services were held Wednesday at the family home, Rev. W. E. Rossman officiating, followed by interment in Fern Prairie cemetery.
Camas Post, 17 Sept 1920, Page 1
If there is any missing, incorrect information or photo issue, please proceed to this page