Filter:
Clear
|
Old
|
1st Addition
|
2nd Addition
|
3rd Addition
|
Columbarium
|
QA 4x4 Ash Gardens
|
QC 2x2 Ash Gardens
|
QM Upright Memorial Section
|
Unknown
Anna Lois Burden Atkins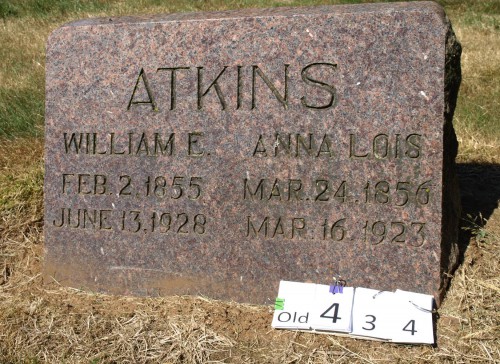 | Section: | Block: | Plot: |
| --- | --- | --- |
| Oak Grove Farm Cemetery | 4 | 35 |
Obituary
Obituary
Anna Lois Burden Atkins
Death Takes Toll of Two Camas Homes
Two Camas homes are shrouded in the mantle of sorrow by the visitation of death during the last week.
One is that of the wife of W. E. Atkins, street supervisor, who passed away suddenly Friday morning last week. Mrs. Atkins was in her usual degree of health up to the afternoon of Thursday when she collapsed from heart failure and passed away during the night.
Mrs. Atkins, whose maiden name was Lois Burden, was a native of the state of Michigan and was united in marriage to W. E. Atkins on March 12, 1876. Two years later they located in Nebraska and for three years Mr. Atkins was employed by the Q railway company.
Following that date they came west and settled in Oregon, later coming to this vicinity where they developed a home in Fern Prairie and for 48 years traveled life's pathway together. Mrs. Atkins, was a woman of noble characteristics, domestic in her aspirations and beloved by neighbors and friends who knew her personally. She is survived by her widower, W. E. Atkins, and two sons, Charles and George W., and two daughters, Mrs. Olive Neal and Mrs. Alden Warren. Funeral services were held from Swank's chapel, the Rev. Mr. Johnson of the Seventh Day Adventist Church officiating, followed by interment in Fern Prairie Cemetery.
Post Record (Camas, Washougal, WA), 23 Feb 1923
Swank's Funeral Home
*******
Data in connection with the obituary notice last week of the late Mrs. W. E. Atkins was not fully complete. Another daughter, Mrs. Pearl Kays, resides at Walton, Oregon, and with her husband was here to attend the funeral services. Another son also, Bert Atkins, lives in California and it was not possible for him to be at the obsequies.
Mr. and Mrs. W. E. Atkins, briefly reported last week as having traveled the pathway of life together for the unusual period of 48 years, resided first in Michigan, later in Nebraska, then came to Oregon and Washington to round out a life cycle and record of living untarnished by any reproach in the communities in which they have resided, and their family of children, grown to maturity and making home of their own, have reflected in their lives the records written by their parents. What more satisfying contemplation is there in right living than you find in this family history.
Post Record (Camas, Washougal, WA) 30 Mar 1923
If there is any missing, incorrect information or photo issue, please proceed to this page