Filter:
Clear
|
Old
|
1st Addition
|
2nd Addition
|
3rd Addition
|
Columbarium
|
QA 4x4 Ash Gardens
|
QC 2x2 Ash Gardens
|
QM Upright Memorial Section
|
Unknown
Charles Warren, SR. Atkins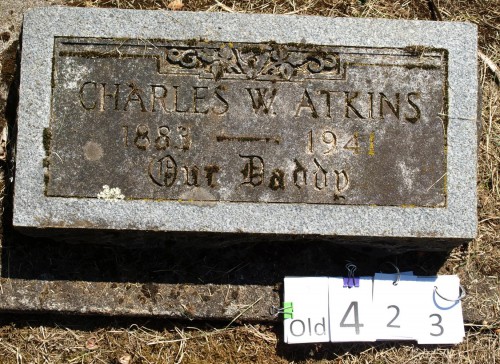 | Section: | Block: | Plot: |
| --- | --- | --- |
| Oak Grove Farm Cemetery | 4 | 23 |
Obituary
Obituary
Charles Warren Atkins
Charles Warren Atkins, 57, charter member of the Camas volunteer fire department, and employee of the water department and former police chief, died in Clark General hospital Wednesday at 6 a.m. of a heart ailment. Services will be held Saturday at 2 p.m. at Swank's chapel, with Rev. J. L. Tucker of Portland, officiating, and interment will be in the Fern Prairie cemetery.
Members of the fire department will be pallbearers, and members of the Odd Fellows lodge, of which he was also a charter member, honorary pallbearers.
Mr. Atkins served a term as chief of police, leaving that office in 1926. In 1928 he was appointed the city's first full time fireman, a position he held until 1935 when he was transferred to the water department, where he has been employed ever since, except during a time when he was ill.
Mr. Atkins spent most of his 57 years in this district. He is survived by the widow Mollie Atkins, two sons, Charles Jr. and Everett and a daughter Florence Tucker, all of Camas, a brother Robert of Portland and George of Salem, and two sisters, Mrs. Pearl Kays of Battle Ground and Mrs. Bina Warren of Forest Grove, Ore.
Post Record (Camas, Washougal, WA)

16 Jan 1941, Page 1
If there is any missing, incorrect information or photo issue, please proceed to this page