Filter:
Clear
|
Old
|
1st Addition
|
2nd Addition
|
3rd Addition
|
Columbarium
|
QA 4x4 Ash Gardens
|
QC 2x2 Ash Gardens
|
QM Upright Memorial Section
|
Unknown
Willard Woodruff Austin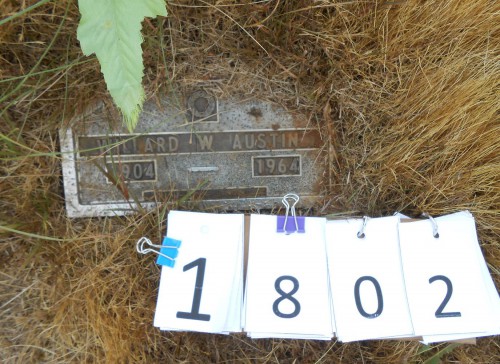 | Section: | Block: | Plot: |
| --- | --- | --- |
| 1st Addition | 8 | 2 |
Obituary
Obituary
Willard W. Austin
Willard W. Austin, age 60, Rt. 2, Box 268, Camas, died Fri., Sept. 18, in Vancouver.
Funeral services were held Mon., Sept. 21 at Stoller Memorial Chapel with the Rev. R. J. Schable officiating. Interment was in the Fern Prairie cemetery.
Mr. Austin had been a resident of Camas for five years and was a member of the Jehovah's Witnesses church.
Survivors include his wife Lillian V.; three daughters, Mrs. Robert (Myrna) Israel; Mrs. Vern (Lois) Israel, and Mrs. Glen (Joyce) Shoemaker, all of Washougal; one sister, Mrs. Alvin (Vera) Bergevin, Burbank, Cal.; one brother, Virgil C. Austin, The Dalles, Ore. and seven grandchildren.
The Post Record (Camas, Washougal, WA) 24 Sep 1964 Page 7
If there is any missing, incorrect information or photo issue, please proceed to this page