Filter:
Clear
|
Old
|
1st Addition
|
2nd Addition
|
3rd Addition
|
Columbarium
|
QA 4x4 Ash Gardens
|
QC 2x2 Ash Gardens
|
QM Upright Memorial Section
|
Unknown
Ruth Eloise Chance Ayers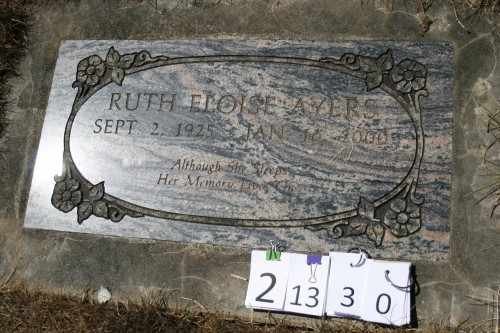 | Section: | Block: | Plot: |
| --- | --- | --- |
| 2nd Addition | 13 | 30 |
Obituary
Obituary
Ruth E. Ayers
Ruth Eloise Ayers died Jan. 16, 2000, in Vancouver. She was 74.
Born Sept. 2, 1925, into the large family of James and Stella Chance in Bonners Ferry, Idaho, she grew up in Bonners Ferry and later moved to Omak, Wash., where she lived for many years. She later moved to Portland where she lived for approximately 10 years. She lived in the Vancouver area for the past nine years. She loved to play Bingo and enjoyed watching NASCAR auto racing. She made hand-sewn quilts for family members and liked music.
She is survived by her daughters, Dorothy Knighton of Camas, Shirley Fent of Texas and Ruby Moarman of Vancouver; sons, William Lehrman and Kenneth Lehrman of Portland; brothers, Marvin Chance of Lancaster, Wisc., and Bob Chance of Lewiston, Idaho; sisters, Dorothy Curtiss of Sequim, Wash., and Ernest McMahon of Salem, Ore.; 14 grandchildren; and 11 great-grandchildren. Her son, Randolph "Randy" Lehrman and her grandson, Christopher Lehrman, preceded her in death.
A graveside service will be held Wednesday, Jan. 19, at the Fern Prairie Cemetery. There will be a viewing Tuesday from 1-5 p.m. at Straub's Funeral Home in Camas.
Memorial donations can be sent to the Fern Prairie Firefighters Association at P.O. Box 887, Camas, WA 98607.
The Post Record (Camas, Washougal, WA), January 2000
If there is any missing, incorrect information or photo issue, please proceed to this page