Filter:
Clear
|
Old
|
1st Addition
|
2nd Addition
|
3rd Addition
|
Columbarium
|
QA 4x4 Ash Gardens
|
QC 2x2 Ash Gardens
|
QM Upright Memorial Section
|
Unknown
Donald Macrae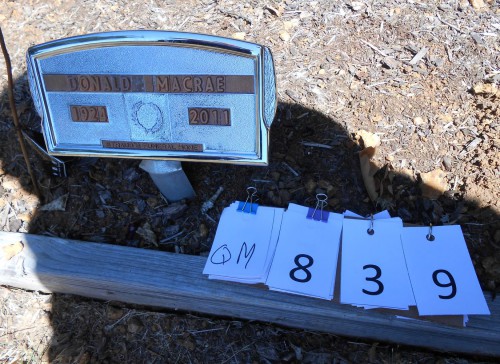 | Section: | Block: | Plot: |
| --- | --- | --- |
| QM Upright Memorial Section | 8 | 39 |
Obituary
Donald M. MacRae died Feb. 25, 2011.
Donald was born June 21, 1924 in Seattle to William and Ethel Inions MacRae. While he was in grade school, the family moved to Snohomish. In December 1942, Don enlisted in the U.S. Navy. After receiving basic training at the Farragut, Idaho, Naval
Training Center, he was stationed in Columbus, Ohio; where he became an aircraft radio technician in the Air Ferry Squadron followed by Reserve Officers Training at the University of Rochester.
Before being discharged from active duty, he served in the occupation force in the Philippines.
After his discharge, he enrolled in Everett Junior College and then the University of Washington from which he graduated with a major in journalism.
In 1954, he was employed by Crown Zellerbach Corporation in Port Angeles as a cost accountant. He transferred to work at the mill in Camas in 1964. After 39 years, he retired from the corporation which by then had become Georgia Pacific.
In Port Angeles, he was a member of Toastmasters and in Camas he served on the audit committee of Lacamas Community Credit Union for a number of years. Also, he was a member of the Sierra Club, Nature Conservancy, Natural Resources Defense Council, Heart o0f America Northwest, and the Scandinavian Heritage Foundation.
He is survived by Rosalee, his wife of 53 years; sons, Randal H. MacRae, Wendell H. MacRae, and Reginald H. MacRae.
He was preceded in death by his sister, Mary MacRae Welsh and brother, Frederick E. MacRae.
A private graveside service with military honors was held at the Fern Prairie Cemetery.
Straub's Funeral Home & Columbia River Cremation in Camas was in charge of arrangements.
Memorial donations can be made to a charity of choice.
Sourcing: Washington State Death Certificate & Obituary
If there is any missing, incorrect information or photo issue, please proceed to this page