Filter:
Clear
|
Old
|
1st Addition
|
2nd Addition
|
3rd Addition
|
Columbarium
|
QA 4x4 Ash Gardens
|
QC 2x2 Ash Gardens
|
QM Upright Memorial Section
|
Unknown
Celia Baker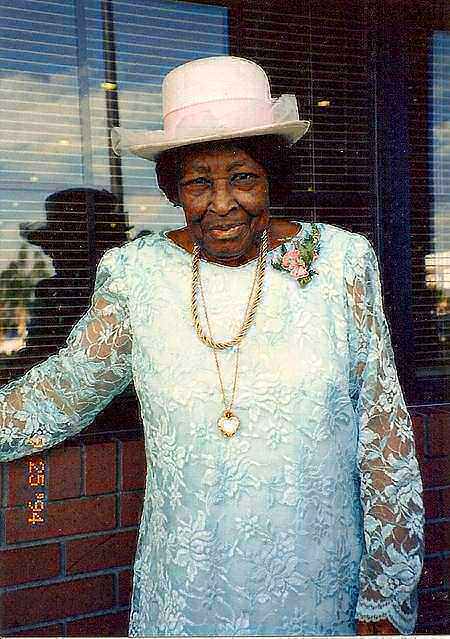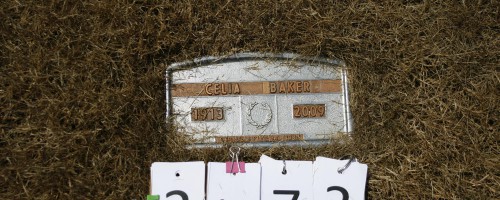 | Section: | Block: | Plot: |
| --- | --- | --- |
| 2nd Addition | 13 | 72 |
Obituary
Obituary
Memorial for Celia Baker
Born in Natchez, MS on May 9, 1913
Departed on Dec. 19, 2009 and resided in Vancouver, WA.
The rural world that Celia Baker was born into was relatively speaking, a prosperous one. Her father was an extremely resourceful, hardworking individual, and as Celia recalls, the work ethic was established at an early age. \\\"In those days you started to work when you were very young. You started to carry two sticks of wood as soon as you were big enough to carry two sticks of wood. Kids didn\\\'t grumble either.\\\"
As a young girl she encountered racial prejudice that was to follow her through much of her life. She recalls staying up all night with the rest of her family to keep cattle from eating her father\\\'s sugar cane crop. The cattle were driven in by their white owners who cut the fences with the idea of gaining free foraging for their stock.
At the age of 11 Celia was confronted with an awesome responsibility. She replaced her mother as head of the household, a home that included her father, two younger sisters, and three brothers. There was no electricity, no running water, for cooking, washing, mending, canning, and preserving. The grueling round of chores limited her access to schooling which she enjoyed so much.
In order to escape this rugged, rural existence Celia married while still in her teens. She made a poor choice, a man who could not handle responsibility. After obtaining a divorce, Celia made a commitment to give her daughter the attention, affection, and education she had never received.
Although Celia worked all her life as an unschooled black woman in factories, foundries, laundries, and hospitals for the smallest of wages, she put her daughter through Seattle University. Today, Rosa Lee is a teacher in high school and community college. Celia worked hard to create open communication with her daughter. She realized that understanding her daughter\\\'s point of view was critical to communicating properly. Because Celia missed having a mother of her own to teach her in her teen years, she wanted to give her daughter \\\"all I knew.\\\" That meant making Rosa Lee feel she could \\\"ask me anything and I\\\'ll find the answer.\\\"
The wisdom Celia Baker passed on to her daughter has in turn been passed on to her grandchildren. Her oldest granddaughter, was a homecoming queen, an honor student, a college graduate, and now is a financial counselor. Her oldest grandson has an M.B.A. and is a financial officer for Rainier Bank. Her youngest grandson, Terry, was named Mr. U.S.A. Teen in 1981 and travels the country speaking to youth groups and teaching them the values passed down from his grandmother.
Sourcing; Washington State Death Certificate – Straub's Funeral Home & Death Certificate
If there is any missing, incorrect information or photo issue, please proceed to this page