Filter:
Clear
|
Old
|
1st Addition
|
2nd Addition
|
3rd Addition
|
Columbarium
|
QA 4x4 Ash Gardens
|
QC 2x2 Ash Gardens
|
QM Upright Memorial Section
|
Unknown
Laura Jane Davis Pinney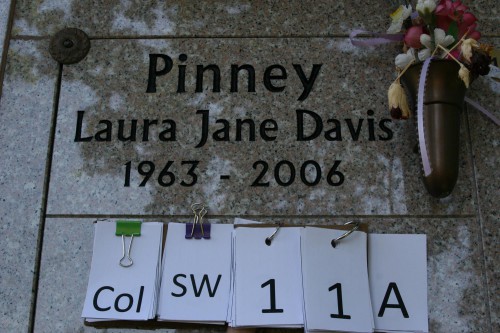 | Section: | Block: | Plot: |
| --- | --- | --- |
| Columbarium | SE | 11A |
Obituary
Laura Jane Davis Pinney
Laura Pinney passed away at home in Camas, WA on her 43rd birthday, July 12, 2006.
Laura graduated from Corvallis High School in 1981. She then went to Southern Oregon State College from 1981-1983 and then to Pennsylvania State University where she received her BS in Criminal Justice in 1991. Laura worked in investigation, security and law enforcement. She also held a private investigator certification. Laura was a graduate of the Oregon State Police Academy and Board of Police Standards and Training. She married James E. Pinney in 1987 and they were divorced in 2004. She deeply loved her son and took great joy in him and his life.
She is survived by her son, Hayden Pinney of Vancouver; mother and step-father Carolyn and Thomas Maresh of Bend, OR, brother and sister, Benjamin and Jacqueline Davis of Longview, WA; step brothers, Scott Maresh of New Castle, WA and Blake Maresh of Olympia, WA; and grandparents, Ellen and Cecil Smith of Portland, OR. She was preceded in death by her father, William Davis.
A celebration of life service will be held at a later date. Straub's Funeral Home in Camas is in charge of arrangements. To send condolences or to sign the online guest book visit: www.straubsfuneralhome.com
The Columbian (Vancouver, WA) Saturday 16 Jul 2006 Page C 4
If there is any missing, incorrect information or photo issue, please proceed to this page