Filter:
Clear
|
Old
|
1st Addition
|
2nd Addition
|
3rd Addition
|
Columbarium
|
QA 4x4 Ash Gardens
|
QC 2x2 Ash Gardens
|
QM Upright Memorial Section
|
Unknown
Jennie Margaret Grancich Rader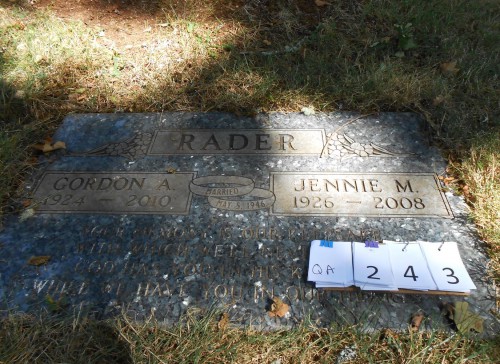 | Section: | Block: | Plot: |
| --- | --- | --- |
| QA 4x4 Ash Gardens | 2 | 43 |
Obituary
JENNIE M. RADER
Jennie M. Rader, age 81, passed away October 2, 2008 in Vancouver. She was born October 17, 1926 in Los Angeles, CA to Marco and Mary (Spoja) Grancich. Jennie grew up in Los Angeles and married Gordon Rader when she was 19 and moved to Vancouver. In 1966 they moved to Washougal where they raised their family and lived until moving to Vancouver in May of this year. She was extremely active at St. Thomas Catholic Church and taught CCD for years. Jennie was an avid reader and could answer every question in Jeopardy. She was into many crafts and made rugs, crocheted, knitted and painted. They traveled extensively in the United States after Gordon's retirement. Jennie had a strong faith and imparted that to her family.
She is survived by her husband, Gordon at home; children, Christine Malhoyt of Virginia, Cathleen Fitzpatrick of Bremerton, WA, Caryn Rader of Portland, Camille Stanley of Vancouver; brother Joseph Grancich of California; sister, Maryann Maxstedt of South Carolina; 12 grandchildren and 7 great grandchildren.
A private graveside service will be held at the Fern Prairie Cemetery at a later date. Arrangements are under the direction of Straub's Funeral Home & Columbia River Cremation in Camas. Memorial donations can be given to Hospice Southwest @ PO Box 1600, Vancouver, WA 98668. To send condolences or to sign the online guest book visit www.straubsfuneralhome.com
Sourcing: Straub's Funeral Home & Washington State Death Certificate
If there is any missing, incorrect information or photo issue, please proceed to this page