Filter:
Clear
|
Old
|
1st Addition
|
2nd Addition
|
3rd Addition
|
Columbarium
|
QA 4x4 Ash Gardens
|
QC 2x2 Ash Gardens
|
QM Upright Memorial Section
|
Unknown
Mary Jo Batten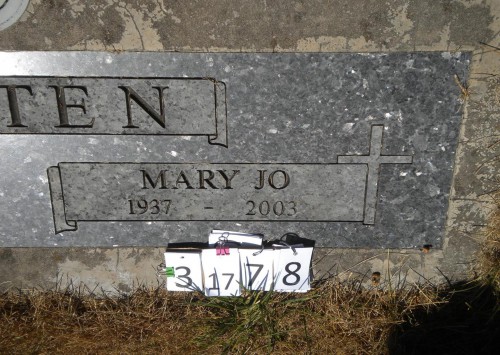 | Section: | Block: | Plot: |
| --- | --- | --- |
| 3rd Addition | 17 | 78 |
Obituary
Obituary
Mary J. Batten
A memorial service will begin at 1 p.m. at LaCamas Heights Baptist Church in Camas for Mary Jo Batten, who died Tuesday, March 25, 2003, Vancouver. She was 65.
Mrs. Batten was born Dec. 28, 1937, in Carrizozi, NM. She married James Batten May 23, 1953, in Texas and they settled in Camas in 1965.
She worked in the bag factory at the old Crown Zellerbach paper mill in Camas.
Mrs. Batten was a member of Pentecostal Church of God in Camas and enjoyed Bible study.
Her husband and two sons, Jimmy D., and Eddie D., all preceded her in death.
Survivors include one daughter, Vicki Collins of Camas; two sons, Mike of Portland and Steve of Vancouver; three sisters, Vickie Menefee and Barbara Stump, both of Washougal, and Eunice Walcher of Camas; 14 grandchildren; and two great-grandchildren.
Burial will be in Fern Prairie Cemetery. Straub's Funeral Home in Camas is in charge of arrangements.
Memorial contributions may be made to Hospice Southwest, P.O. Box 1600, Vancouver, WA 98668.
If there is any missing, incorrect information or photo issue, please proceed to this page